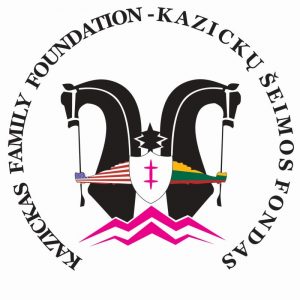 The Kazickas Family's philanthropy is motivated by our wish to create a better world for both current and future generations of Lithuanians. The Kazickas' "Odyssey of Hope" brought the family to America, the new world of freedom and opportunity, but we never forgot our heritage and the homeland. When Lithuania regained its independence in 1991, we knew we had an opportunity to help Lithuania in its post-Soviet development. The Kazickas Family Foundation was established in 1998. The Foundation's main focus has always been in education. But over the years we have expanded our grant making efforts to include culture and the arts, social welfare, technology, and medicine. Most of our grants are for causes in Lithuania and projects related to Lithuania in the United States. However, KFF has also supported many projects in other countries.
With its offices in Vilnius and New York, allocating financial, human and leadership resources, KFF hopes that you will be able to join it in this important work.

"Basketball Power" program, thought out by Peter Kazickas, funded by the Kazickas Family Foundation and borrowed from NBA Cares and the Hoops4Hope program in Zimbabwe, made its debut in twelve Day Centers across Vilnius, Lithuania and its suburbs in the Spring of 2015. A social responsibility program which provides Day Centers children with free basketball lessons and mentoring programs aiming to prevent and raise awareness around such important issues as bullying, alcoholism, suicide, human trafficking and others. The program aims to include physically and mentally disabled athletes and to encourage equal participation. The main goal of "Basketball Power" is to use basketball not only as a game but also as a form of communication. Children are taught to appreciate teamwork, develop self-confidence, respect others and resolve conflicts, recognize dangerous situations, and of course, to make friends. The program is conducted by Capital Basketball School (Sostines Krepsinio Mokykla) of Vilnius, Lithuania with the help from specialists, and involves KFF other grantees. Coaches undergo training in sports psychology seminars. In the program's first stage, for four months, seven professional teachers – basketball coaches all in their early twenties focused on 200 children and the youth (girls and boys ages 6 to 17) from high-risk families. It consisted of 104 practices an hour and a half each, with half of the time for basketball practice and the other half for specialized talks with children.cIn June, 2015 NBA – KFF Seskine basketball court in Vilnius (built in 2006) was refurbished and opened with a big ceremony: a day full of basketball, relay races, guests of honor, basketball stars and a complete attention to 180 participating children and 10 adults with disability from two wheel chair basketball teams. The celebration brought together many who cared for Lithuania's children. Five of nineteen Kazickas Family members flew in from New York to Vilnius for the ceremony. The first ones to try the new court were wheel chair basketball teams "Santaka" and "Draugyste" in the opening game. Former Lithuanian basketball player and Vilnius Deputy Mayor Linas Kvedaravicius was able to score three-point shots perfectly. Lithuanian Olympic champion Valdemaras Chomicius kept up with L. Kvedaravicius. Children had to present their Day Centers with song and dance, and participate in relay races and basketball drills. The NBA community outreach program "NBA Cares" director for Europe, Middle East and Africa region (EMEA) Neal Meyer conducted an hour clinic with the help of Alex, Augustine and Peter Kazickas and the program's seven main coaches from SKM, and welcomed all the participants, guests and organizers. At the second half of the day, NBA player Jonas Valanciunas (Toronto Raptors) delegated by NBA, made his presence and gave his undivided attention to all the children. Fifteen of the most motivated children from the program attended SKM (Capital Basketball School's) basketball ten-day summer sleep away camp in July that summer. At the next stage of the program with the advice from Save the Children Lithuania and "The Support for Victims of Prostitution and Human Trafficking" group the program expanded to those regions in Lithuania that suffer from human trafficking. The traffickers target the most vulnerable children and youth in remote villages and towns where there are few after school activities, children are not protected by caring adults and don't get integrated in the society. According to Suicide and Hygiene Institute cause of death report, there is a high level of alcoholism and suicide in similar areas as well. The program added 6 more locations and included 310 children from the communities. During the 2015-2016 "Basketball Power" season participants worked together with Vilnius basketball club "Lietuvos rytas" and participated in a project "One team." It also committed to nationwide social campaign "For a safe Lithuania" initiated by the President Dalia Grybauskaite. Basketball practices with life skills lessons were provided to children and youth in 20 towns by 11 coaches with 556 lessons total his season. Season ended with a fun event in Utena. Third 2016-2017 Basketball Power season brought few adjustments and improvements. Life skills lessons curriculum was created and introduced and two seminars for the coaches development were organized. Twelve coaches go to sixteen centers and provide lessons to over 300 children and youth. Sports consultant, Rutenis Paulauskas, joined the Basketball Power team, sharing his experience with the coaches and working on program's improvements. New challenge to provide lessons to youth at the Veliucionys and Kaunas Juvenile Facilities was met with success. Jurate Kazickas with her daughter Alexandra Altman and Peter Kazickas with his sister Annalina visited the youth at the Veliucionys center to share their experiences and to motive young men to make positive changes in their lives. John and Marcie Kazickas together with Peter and Annalina visited Lithuania in February to find new ways to improve Basketball Power, to find new partners and program's friends who have similar vision about the Lithuania's youth. Basketball Power manager Arminas Vareika came to New York in April to meet many individuals and organizations that contributed to the program's growth and development. An event to introduce Basketball Power to the Lithuanian diaspora in New York area was organized at the NBPA offices in NYC. J. Valanciunas (Toronto Raptors) and M. Kuzminskas (New York Knicks) made an appearance. Season was finished with an event on June 10th, at the White Bridge in Vilnius. More than 300 children and youth from around Lithuania, met with Lithuanian army and US cadets, Lithuanian Police, DevBridge group, BC Somewhere Seen, Caritas, wheel chair Basketball club "Draugystė". All the participants were united by basketball. Later, the relay races continued in the inflatable entertainment area by Emovents. During breaks, everyone was learning how to do chest compressions in an emergency situation with the Crisis Research Center team. The event was attended by the Kazickas family visiting from the US, Lithuanian Basketball Federation Secretary Mindaugas Spokas, US Ambassador to Lithuania, Anne Hall. All the program's participants received NBA T-shirts, donated by the NBA London bureau. KFF thanks H.E. President D.Grybauskaite and her campaign "For Safe Lithuania" for the partnership during the entire season.
We aim to
The child's interests are our primary goal. Every child has the right to develop and use their potential, receive a high-quality education, take part in various classes and grow in a tolerant environment. We ensure that children and teenagers feel comfortable and will not be affected by any forms of violence that can be: physical, emotional, bullying, discrimination, etc. We do not allow children to do something or say something that could make them feel uncomfortable or undermine their self-confidence. Our policy is based on the laws of the Republic of Lithuania, ensuring the welfare of all participants in the project. It is aimed at preventing violence against children. We also promote awareness, prevention, communication, and we urge everyone to respond. All staff directly and not directly involved with children are trained to recognize any trace of violence. It is also seriously acceptable to respond quickly and appropriately to situations where a child is suspected to be a victim while maintaining confidentiality. We commit that children's rights are well known to our partners and sponsors as well as everyone who is associated with the project. Our main goals are:
Educate children about their rights and responsibilities.
Inform about prevention of child abuse and promote information about it.
Improve employee skills that directly or indirectly interact with project participants.
To provide a friendly environment to project participants that encourage them to develop their skills.
To form an environment where children can feel free
Increase physical activity in remote areas of Lithuania.
To give the positive influence of sport on the lives of young people.
We encourage children to show themselves as much as possible, to use their talents, to be motivated and to seek the best possible results not only in sports but in their personal lives. We also believe that these values are very important and encourage their development:
Encourage joy and laugh, a good mood in all the activities that children do.
We emphasize the importance of our self-esteem we strive to make everyone feel unique and able to change ourselves and our environment in the world.
We encourage compassion and care for others. We appreciate the ability to understand the differences and similarities between feelings and emotions in another person.
We try to emphasize taking responsibility for actions and not to blame others for the actions they have taken.
We encourage people to focus on goals and develop a plan with the necessary steps to achieve their desired goals. Persistence is an important qualitative self-stroke toward the goal of preventing a child from failing to succeed.
We encourage individuals to be open to themselves and with others.
These values are part of the project for the formation of a young person's behavior. The project is designed to show children their potential, promote their dreams and set goals. Sport helps children to reveal their various roles and work in the team, which is especially relevant these days.